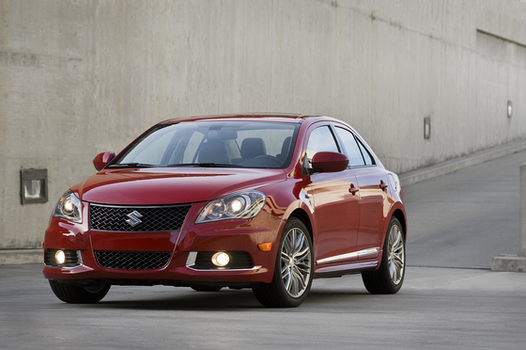 Looks like Suzuki came out from shadow and will come to present at New York showroom their new model called Suzuki Kizashi Sport, but unfortunately only the name is suggesting that. If you judge this Suzuki Kizashi only from the exterior point of view you might say that is a sport car, but if you analyze the performance, well, then is not so sport anymore.
Suzuki Kizashi Sport comes equipped with some slightly redesigned bumpers, the grille with chromed accents, with some 18 inch wheels and with more prominent thresholds. Also that lowered suspension with 10 mm and the subtle spoiler, accentuates very much the Kizashi shapes. The interior will also be preferred by the customers with a more sportive taste.
The interior has seats with a more prominent profile, sport steering wheel with perforated leather and contrasting upholstery seams. This Suzuki comes with a 4 cylinder engine at 2.4 liter capacity being able to develop 185 horsepower and it has the same CVT transmission. The Sport version can be combined with two trim levels, GTS and SLS, but also FWD and AWD.