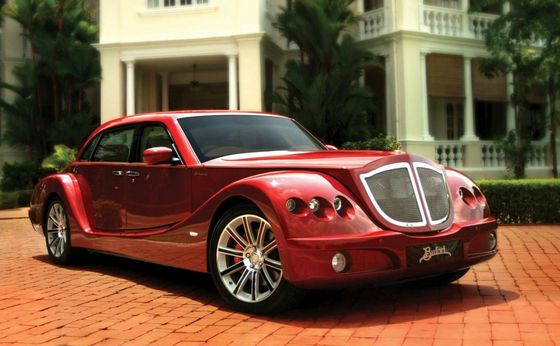 Let's begin with this properly and first of all to tell you that this model was called Bufori after the city in which this car was inaugurated, that's what the head of company said. Initially the code name of the car was Bufori MK VI, but now the name of the Malaysian car is Bufori Geneva, maybe in the honor of the Helvetian showroom, or maybe leak of inspiration.
This Bufori Geneva also nicknamed "the Malaysian Rolls" is a very interesting limo, built manually which has a classic appearance. The side wings are from the '20-'30's style and for the doors the y founded a very interesting solution, they equipped this Bufori Geneva with "suicide doors", like Rolls Royce Phantom.
Maybe some of the parts have a '20-'30's year look, but under the hood this Bufori Geneva has a very modern engine. The "Malaysian Rolls" comes equipped with a V8 engine, having 6.1 liter capacity developing 430 horsepower and a maximum torque of 586 Nm. Theoretically  this car reaches 100 km/h in less than 6 seconds and the top speed is around 260 km/h.