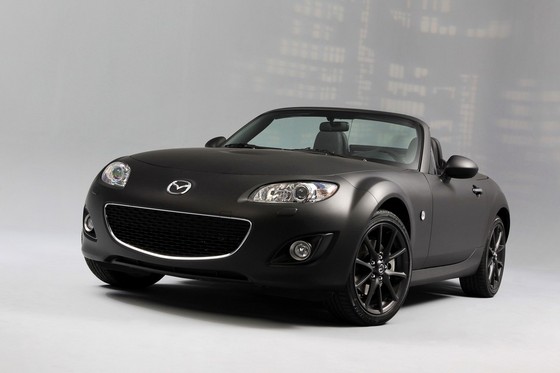 Is not the first time when we see a Mazda MX-5 in a special edition, this is the most recent one and it has been made in collaboration with a design company from France. Mazda MX-5 Black&Matte in the photo presentation doesn't come alone, as you can see there's also a model to improve even more the image, of course the girl is not for sale.
You don't need to be expert to see that Mazda MX-5 Black&Matte is the result of a very inspired tuner, at this edition didn't work an amateur but a very famous design company known for the Haute Couture, LK Paris by Laure Kczekotowska collections. The Japanese peoples didn't provide too much information about this special edition, they let us console with the pictures.
The only details known about this Mazda MX-5 Black&Matte is that the car is based on the Roadster Coupe version with 2.0 liter capacity engine. At this point we don't know if this special edition is for sale but what we know is that they will throw a party in her honor and it will be presented at Cabriolet, Coupe and SUV showroom from Paris.