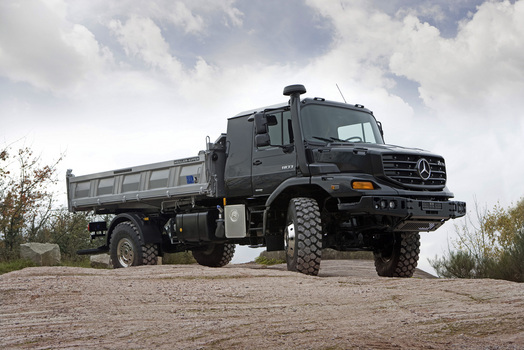 We have here the latest creation from Mercedes created especially for off-road, even extreme off-road, called Mercedes Benz Zetros. Keeping that in mind you can think now at many applications for this Zetros monster, applications from the military ones to utilities, fire fighting and other, all that means construction support and hard to reach areas.
That's enough with the intro, now let's get to the interesting stuff like the propulsion system. This Mercedes Benz Zetros comes equipped with a six cylinders in straight line engine, with air ventilation system. This turbo-diesel engine compact and easy, at 7.2 liter capacity is able to develop up to 320 horsepower and it can reach a maximum torque of 1.300 Nm between 1.200 rpm and 1.600 rpm.
This Mercedes Benz Zetros is available in two different versions, one is Zetros 1833 A 4×4 with the wheelbase at 4800 mm (two bridges), and the version with three bridges is Zetros 2733 A 6×6 with the wheelbase at 4750 mm + 1450 mm. Mercedes Benz Zetros can be equipped with a manual gearbox, eight speeds for forward, one for climbing plus backwards.