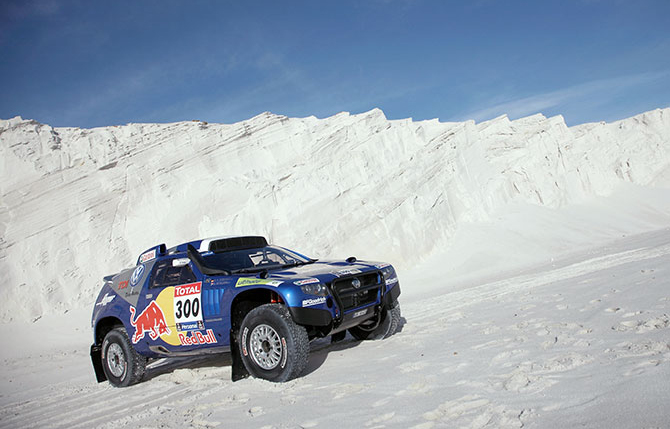 The competition version of VW's Touareg develops 280 hp and 596 Nm from a 2.5-liter TDI engine. The competition model of VW will run in the 2010 edition of the Dakar Rally, which will be held in Argentina. Germans from Volkswagen presented the Touareg TDI version of the 2010 Dakar Rally. The model will run through Argentina and has been tested already in prestigious competitions such as the Baja 1000.
The competition model of VW Touareg benefits a 50 kg carbon fiber body and many others technical achievements. Braking system of the Dakar VW Touareg TDI is able to exert a pressure equivalent to that present at 700 meters above sea level. Monitoring system of competition version of VW's Touareg has a capacity of 250 MB, which can be analyzed by engineers at the end of each racing day competition.

The VW is powered by a 2.5-liter five-cylinder TDI diesel engine with two-stage turbocharging system with exhaust turbochargers and intercooling. TDI unit is developing about 280 hp and 596 Nm of torque. The model can accelerate from 0 to 100 km/h in 6.1 seconds and its top speed is 189 km/h.