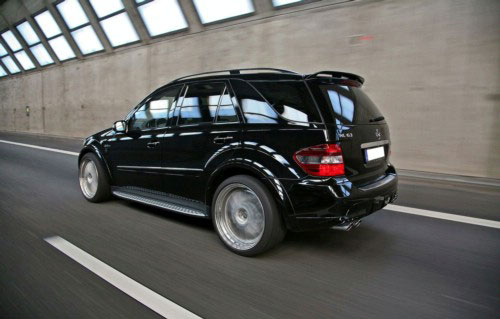 Germans from VATH Automobiltechnik created a performance kit for the Mercedes ML 63 AMG. The modified engine delivers 585 hp and develops a torque of 690 Nm. To reach this performances, the tuners made alot of modifications. Engineers replaced the original pistons with some forged, cylinder heads were extended, they changed also the exhaust valves and added a sports camshafts.
For tuning to be completely, VATH Automobiltechnik reprogrammed the ECU unit. Following these changes, Mercedes ML 63 AMG sprints from 0-100 km/h in 4.5 seconds and reach a top speed of 300 km/h. The 585-horsepower engine is controlled by a high-performance brake system with 8 piston and 380 mm disc diameter.

The ground clearance of the car was lowered by 40 mm through adaptive sports suspension. At the exterior, German tuners mounted a rear spoiler and 22 inch alloy wheels, that wear Dunlop tires. The price for the engine driver package is 19,635 euros. Braking system and sports suspension cost 4,641 euros, respectively 1,952 euros.