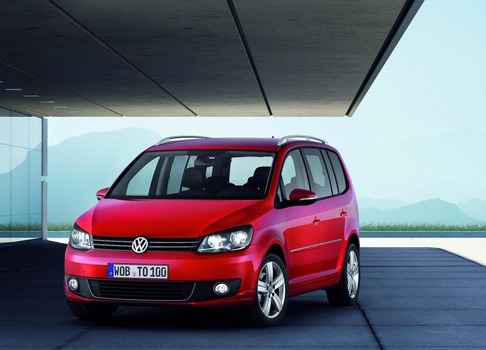 With the Leipzig Auto Show occasion, the Germans presented in world premiere the facelift version of the well known Volkswagen Touran which enters, from the visual point of view, in the family of Golf 6. This compact Touran is going to meet its new rivals, I'm talking about the Renault Scenic or Ford C-Max, and to handle well the competition Volkswagen Touran got a facelift.
What a facelift means you already know, as you probably figure it out yet this Volkswagen Touran comes with a familiar look, the headlights, grille and the spoiler having now a more sober character. Looked from behind this Volkswagen Touran reminds us of its big brother, the new Volkswagen Sharan, in fact this facelift version of the Touran is like a Sharan entered in water.
The motorization offer lays in two gasoline engines and four diesels, all already known from Golf 6. The gasoline engines have small cylinders but they have turbo system, a 1.2 TSI of 105 horsepower and 1.4 TSI of 140 horsepower or 170 horsepower. The diesel range lays in a 1.6 TDI (90 or 105 horsepower) and a 2.0 TDI (of 140 or 170 horsepower).