The 2021 Hyundai Santa Fe has been revealed and this time the facelift is even more impressive than before. It seems the Korean auto-giant has worked hard to woo more petrolheads into buying one of their most popular SUVs. The facelift comes with futuristic styling, new engine options, and a new Calligraphy trim.
The huge front fascia consists of a dominating honey-comb style grille that teams up with the huge fog lights and the sleek headlights. Hyundai has gone over the edge with sporty styling that includes lots of aggressive lines and the use of various shapes that accentuate the overall look. The new Santa Fe also has unique looking rims that match quite well with the entire look of the SUV.
The 2021 Santa Fe SUV comes with two 2.5 liter engine options. One of which will be naturally aspirated while the other will be available with a turbocharger. Moreover, keeping in mind the current shift towards electric and electrified vehicles, Hyundai plans to release a 1.6-liter turbocharged hybrid powertrain as well as a PHEV option.
The 2.5-liter engine replaces the old 2.4-liter powertrain. The new engine makes 191 horsepower and 182 lb-ft of torque. The difference in power is minimal but when it comes to SUVs even a small increase can mean a lot. The 2.5-liter base engine is teamed up with an 8-speed automatic transmission that sends power to the front wheels whereas an all-wheel-drive option is also available.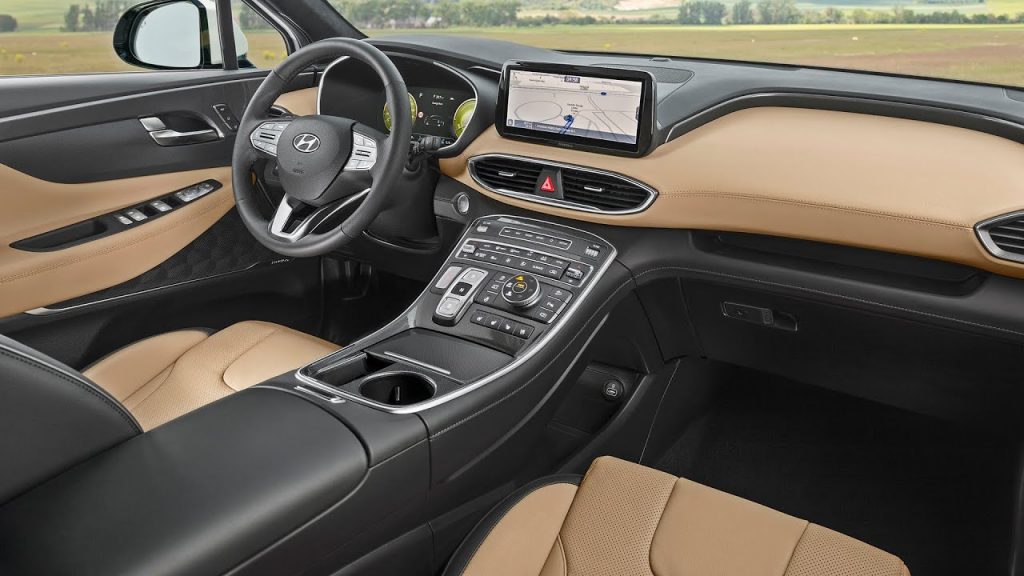 The turbocharged variant, on the other hand, produces an impressive 277 hp and 311 lb-ft of torque. This engine is mated to a brand-new eight-speed wet clutch transmission that improves shifting as well as the vehicle's economy.
The 2021 Hyundai Santa Fe also gets improvements in the interior with the 2.0-inch infotainment display being replaced with an 8.0-inch display as standard while a 10.3-inch display is available as an upgrade. Many driver safety features also make their way to the Santa Fe making it a comprehensive contender in the SUV market.