The press conference for the Long Beach Grand Prix (part of the American Le Mans Series) held this weekend has also hosted the presentation of the five gentlemen that will make up the ALMS Green Dream Team.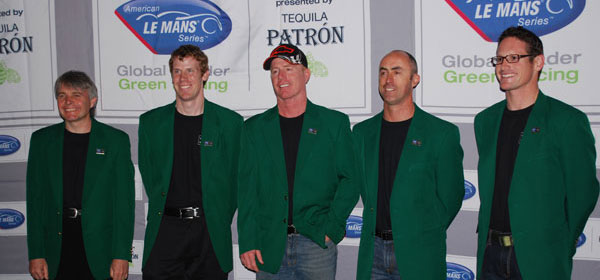 The gents who will be acting as ambassadors for the green racing initiatives in ALMS are Paul Drayson, David Brabham, Johnny O'Connell, Chris Dyson and Gunnar Jeannette.
While no other racing series has thrived as much in promoting alternative fuels as the American Le Mans Series i think they may have made a bit of a mistake with the jacket choice. Rather makes the ambassadors look like premiership golfers but i'll still say "hats off" for the initiative.
Lord Paul Drayson is the UK minister of Science and Innovation, a major proponent of biofuels, owner of a self named team and is driving for the team in his Lola-Judd that runs on cellulosic E85. O'Connell's Corvette is burning up the same type of juice while Gunnar Jeannette is currently racing an LMP Challenge car that is sponsored and lubricated by G-Oil (a special engine oil made from animal fat). Brabham is credited as beeing one of the instigators of the whole green racing movement going in ALMS and Dyson's Lola-Mazda is the first car in the series to run on biobutanol.
The green dream team members will be charged with occupying their time with appearances at races and other events to promote and explain the alternative fuel technologies being used in the series and also with media appearances.