Exotic supercars like Ferrari will always end-up in the news, as week after week there must be a supercar Ferrari ending up in a ditch or getting crashed on a highway.
It is also the case of a Ferrari 458 Italia that has crashed in China, due to excessive driving, the supercar literally flying off the highway.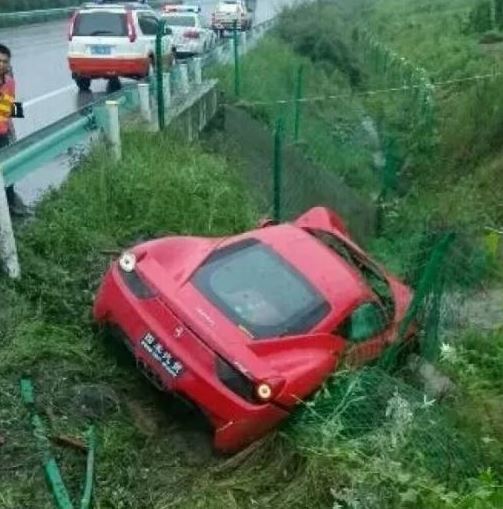 According to the folks from Wrecked Exotics, the Ferrari 458 Italia was driving fast enough on a highway in China and due to heavy rain, the driver lost control and left the highway stopping into a fence.
Fortunately, the driver wasn't harm, but we can`t say the same thing about the Ferrari 458 Italia, which was pretty damaged on the right side.
To be a reminder, the Ferrari 458 Italia was first unveiled in 2009, the supercar coming with a rear mid-engine and rear-wheel drive, as the replacer of the already forgotten F430.
The Ferrari 458 Italia is coming in two body styles, the 458 Italia (Coupe) and the 458 Spider (Roadster), sporting a 4.5-liter V8 unit under the hood, which develops 562 horsepower and 540 Nm of torque.
The unit is hooked to a 7-speed transmission, making the supercar reach 0 to 100 km/h in just 3.3 seconds, before going all the way until 325 km/h.