The Ferrari 458 Italia has been revamped by the Oakley Design tuning company, which is designed to improve both its visuals and its performance, combined in a good package.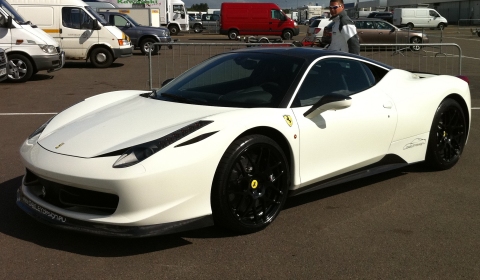 For the exterior, a new rear spoiler was installed and also a new front lip spoiler made of carbon fiber. Both of these increase the downforce and weight by 23 to 25 kg. The exterior also features new mirror covers, an engine cover and a carbon fiber roof panel made by Oakley Design. The Ferrari 458 Italia will be sporting 20-inch wheels mated with Pirelli tires.
Regarding the performance, the Ferrari 458 received improvements to the engine, with an increase in bhp from the stock 570 bhp to 623 bhp. This will offer the Ferrari a top speed of 208 mph (335 km/h) and has also made it possible to go from 0 to 60 mph in three seconds. Other improvements are noticed regarding the installation of a new air intake box made of carbon fiber.
A good piece of news is the intention of Oakley Design to increase the total of custom units to seven, by popular demand. All of these seven cars will have an specific number plate.