There's quite a bit of a celebrative moment going on at Aston Martin's Magna Steyr operations in Graz, Austria as the first examples of the Rapide have left the compound.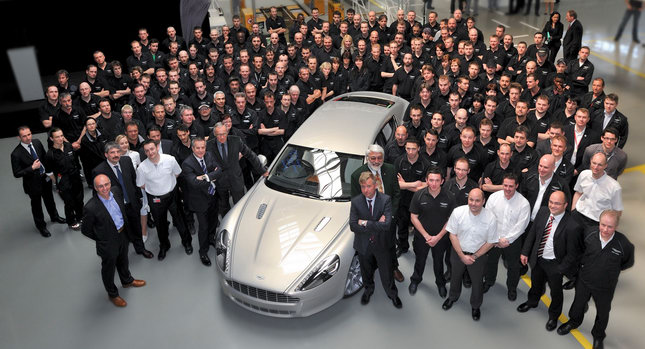 Aston Martin said that the Rapide will reach buyers and their 125 showrooms in 34 countries over the next few weeks.
The Aston Martin Rapide was first shown as a concept at the 2006 Detroit Auto Show but it took another three years for the the production model to show up at the Frankfurt Motor Show in September 2009 and it is only this month that deliveries begin.
The Rapide is powered by a hand-built 6.0-litre V12 engine that produces around 470 horsepower with a peak power delivery placed at 6,000 rpm and 443 lbs-ft peak torque being available at 5,000 rpm. On the face of it the new Aston Martin Rapide is pretty much like every other product they made before: stunning, handbuilt and powered by a stonking great and smooth engine.
But in fact it is totally different as it features an extra set of doors, the ability to carry four adults in comfort and a luggage space of around 301 liters. Should the car seem tempting to you what you need to know is that before you can get one you have to dish out close to 200.000 dollars for it.