You may remember the announcement made yesterday that made it clear that Toyota have sold out all 500 units of the Lexus LFA.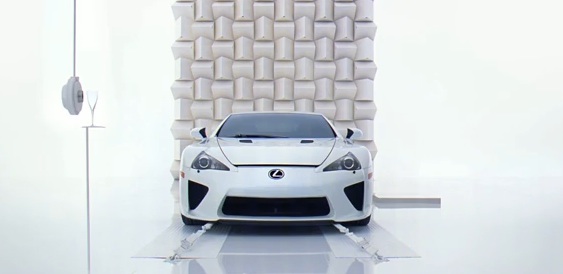 This hasn't stopped them from releasing a commercial they must have been preparing for some time and I have to say I'm glad they didn't decide to drop it.

While I'm not a fan of the LFA, I respect what Lexus have done with it and this commercial is enough of a statement as to why I'm humble to the engineering packaged in this car.
The advert in question features a Lexus LFA in a room that has some walls which would seem at home in a recording studio of sorts, a microphone placed next to it's exhaust, an amplifier and a crystal glass. I think you can pretty much guess where this is going.
The best part about it is that Lexus claim not to have used any CGI or video tricks of sorts and according to Dave Nordstrom, vice president of marketing for Lexus the result is proof of just how deep the company's pursuit of perfection and commitment to innovation goes.