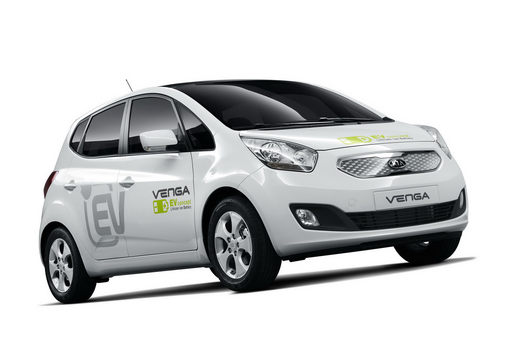 We have here the first complete electrical car from Kia named Venga EV, the Korean company take's the advantage of this period and presents this Kia Venga EV at Geneva Auto Show 2010. If you look at the pictures and observe the details you don't have to be a genius to realize that this is an electric car.
Kia decided to skip the stage of hybrid cars and come up directly with an electric car, like Renault for example. The performance is pretty impressive, it comes equipped with an engine capable to develop 107 horsepower and 280 Nm torque. Kia Venga EV is capable to go from 0 to 100 km/h in just 11.8 seconds and to achieve a maximum speed of 140 km/h.
This Kia Venga EV is powered by a lithium-ion battery which provides enough energy for 180 km and you can charge it somewhere around 80% in 20 minutes. If you want the battery to be full charged then you must keep the car plugged in for 8 hours. For now Kia Venga EV is just a concept presented at Geneva Auto Show 2010.