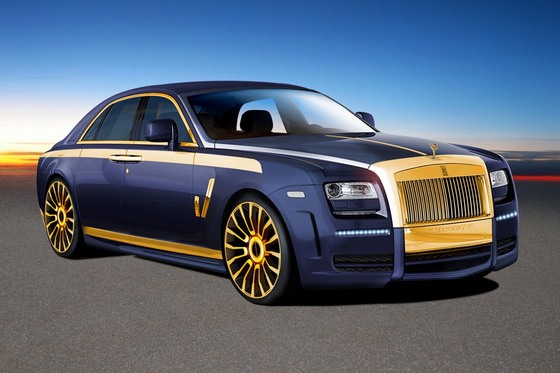 Looks like Mansory wants to take care of the new Rolls Royce Ghost, equipping it with a lot of cool features meant to turn heads on the road. In the photos you see what intentions Mansory has with this luxury car, to emphasize more that dominating look they want to use a golden look for the front grille, also for the wheels, evacuation slots and others.
The car will presented at Geneva Auto Show 2010 and only then we will see if they will use that golden color or actually the precious metal (gold). The blue and yellow colors combination is amazing and the car fits perfectly in the "breathtaking individualization" category. Mansory also equipped this Rolls Royce Ghost with a new front spoiler, but also with headlights having some cool LED's.
Beside the exterior, Mansory upgraded the engine too, changing the central unit, installing a new bi-turbo system and a sport admission. The changes increased the V12 engine power significantly, from 570 horsepower to 720 horsepower to be more exact. The torque also increased, from 780 Nm to 1.020 Nm. The top speed is 310 km/h and it reaches from 0 to 100 km/h in just 4.4 seconds.