The scale model car market has always pretty much been keen on selling miniature supercars and such but this here scale model probably won't see pelting round the carpets and into the furniture.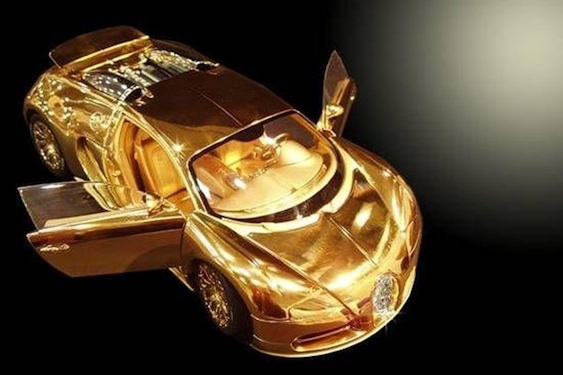 What you can see here is called the Bugatti Veyron Diamond Limited Edition model which is the 1:18 scale supercar of the actual Bugatti Veyron.

The is the work of Munich-based Robert Gulpen and Liverpool-based Stuart Hughes. While the specs on the car are mostly the same as you might get from any other scale model manufacturer as the doors, steering and the hood are all functional.
Where this "toy" isn't the same as any other model, is in the materials used to make it which are definitely not your living room carpet variety. The stuff it's made out of is 24-carat gold, platinum and is decorated with 7.2 carat single cut diamonds.
That's a bit of a shock but there's more to make your jaw drop, this here miniature will be made in only three units and the price for each of them will be starting up at nearly 3 million dollars. That is going to be more than the actual car. Imagine that, a scale model that costs more than a million dollar hypercar. I don't know but that sort of beats the point of a scale model car.