Whenever I get closer to a Mansory product, I get shiver down my spines, as the German tuning company is well-known for its exclusive yet aggressive design, or impressive power packages under the hood.
And even if we are used to seeing plenty of crazy customizations mainly carried out on BMW models, Mansory does turn its attention to other cool and exotic cars from other well-known auto manufacturers from time to time. Below, we have a new design and power kit performed on the brand-new 2021 Rolls-Royce Ghost.
By definition, the new high-end saloon from the British carmaker is the point of reference when it comes to luxury, imposing design, and impressive performance under the hood. However, rich people need more from their rides and resort to different customizations.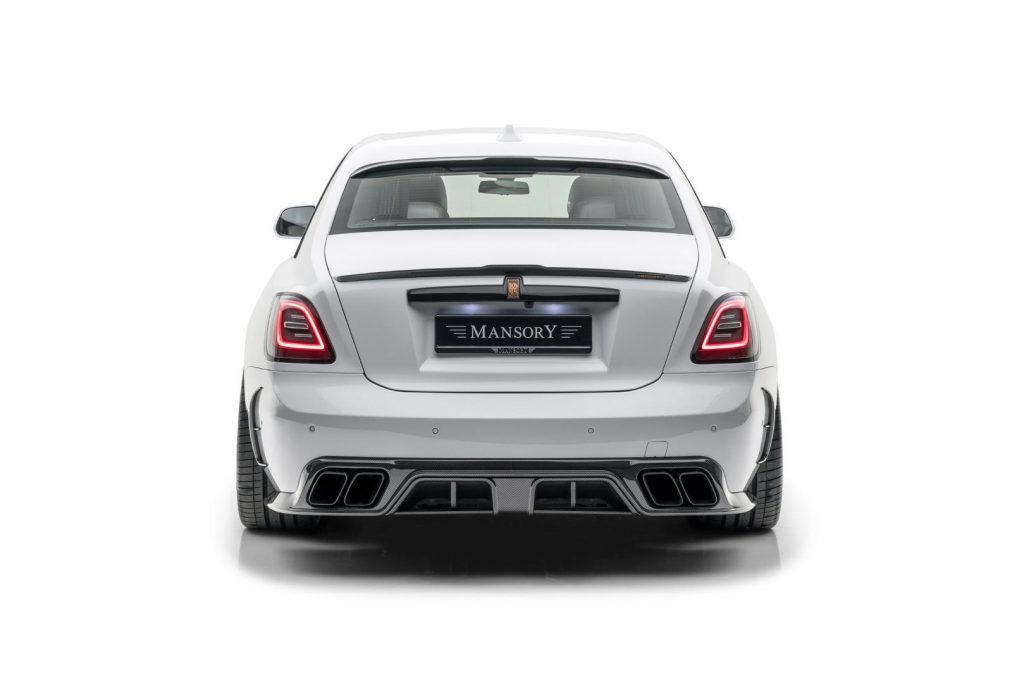 Mansory has worked its magic around this high-end model from Rolls-Royce, turning it into a real beast in terms of power. It has also added some extravagant features at the exterior, as well as inside, which overall, makes it a real head-turner.
If we take a closer look at the photos below, we can easily identify Mansory`s custom body parts made from carbon fiber. First, there is the new integrated lip with side flaps at the front, along with the custom radiator grille that can be illuminated with a wide choice of colors, to fit the rest of the kit.
Next is the ultra-light carbon fiber bonnet with carbon structure, wings with carbon air outlets, blacked-out door handles, dark carbon sills and LED daytime running lights. Then is also the roof spoiler and the tailgate at the rear which significantly reduce the lift forces while at high speeds. Additionally, the sports exhaust system announces a massive power under the hood.
Hopping inside the car, the cabin welcomes its customer with sports feel as well, defined by white leather with Mandarin inserts, along with leather-carbon sports steering wheel or LEDs around the dashboard, seats, or door panels. Extra features can also be ordered, as the company's high-end "cool bag", as well-made of leather.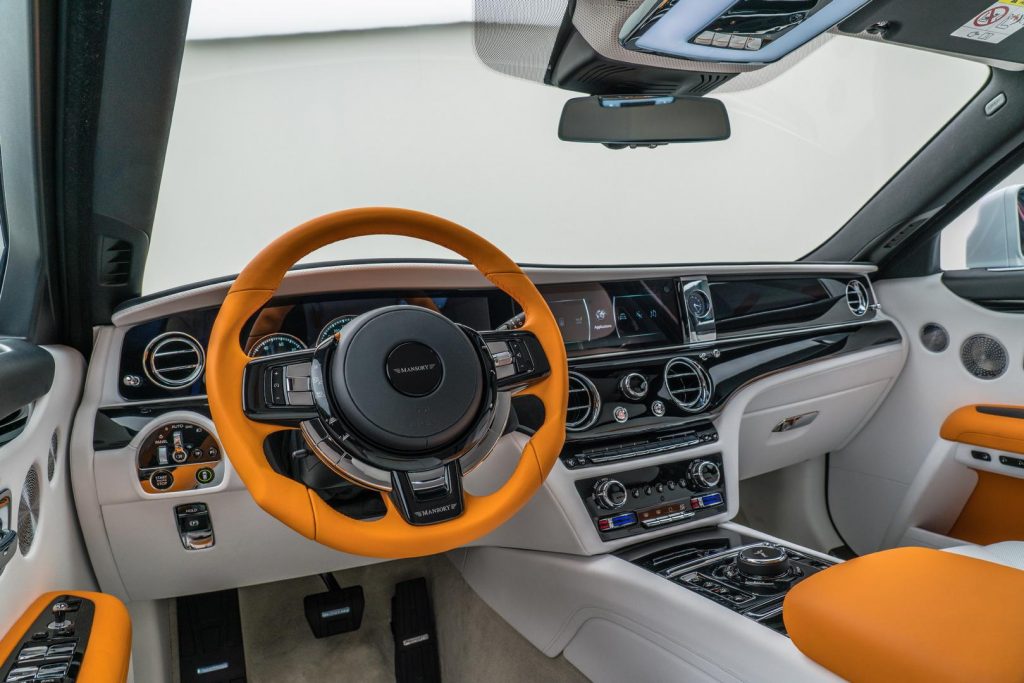 Now, you've all been wondering what lies under the hood: it's probably Mansory`s most impressive customization made on a luxury car such as the 2021 Rolls-Royce Ghost. The customization is the tuner's new power kit, consisting of a highly modified ECU system that comes with new turbochargers and the aforementioned sport exhaust system with high-performance catalytic converters. And that significantly improves the ride's acceleration and performance.
Speaking of performance, this beast is capable of producing no less than 720 horsepower and mind-blowing 1,020 Nm of torque, while the 0 to 100 km/h sprint is done in around 4.4 seconds, which is impressive if we think of the car's massive weight. To reduce engine noise, the German technicians from Mansory have also installed one of their finest engine cover, finished in carbon fiber.
To make the car more steady on the roads and especially in tight corners, a new set of high-performance wheels have also been fitted. We are dealing here with massive 22 x 9.5 and 22 x 10.0 front and rear wheels with high-performance tires, measuring 256/35 R22 upfront and 295/30 R22 at the rear. The wheels are also finished in glossy black and look extremely cool with the "V6" signature.
Take a closer look at the photo gallery below and tell us what you think about Mansory`s latest creation on the 2021 Rolls-Royce Ghost!