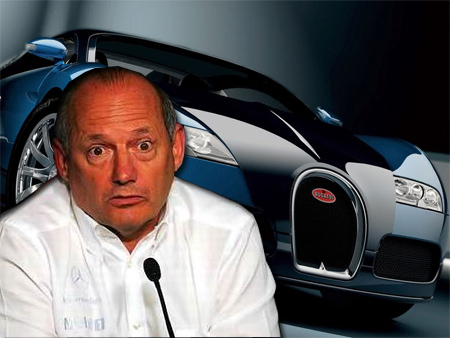 It seems like Ron Dennis, the head of McLaren is not at all impressed by the 1.001 horsepower supercar. Ron Dennis is not only the head of Lewis Hamilton, bus is also the one that supervised the production of the most efficient supercars of the last decades.
Recently the British guy accorded an interview to the arabianbussiness.com site and said only the worse things about Bugatti Veyron, actually calling it a piece of junk. Ron Dennis started criticizing the exterior, he said that he can see the beauty in many women's, but the supercar Veyron is ugly like a pig. Also Ron said that Veyron doesn't have agility in curves because the car is too heavy and if you want to take out the engine you must cut the car in two.
Until the apparition of the Bugatti Veyron, McLaren F1 was officially the fastest car in the world, but the supercar Bugatti destroyed the 13 years domination of F1. McLaren launched recently the MP4-12C model, but it is not the head of range and Dennis announces that will come a even stronger version in the future.