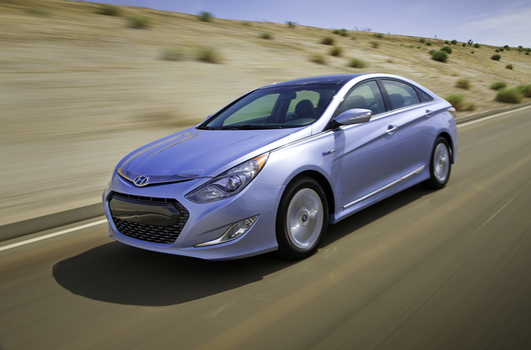 The new Hyundai Sonata was already released in the South Korea and North America being already considered the biggest rival of the Volkswagen Passat CC and now at the New York Auto Show 2010 the Koreans presented also the hybrid model of this car, in world premiere. At a first sight this car looks very good, but let's get more into details.
Compared to the regular model, this Hyundai Sonata Hybrid comes with some changes, the radiator grille is more narrowed, the front spoiler was also modified and let's not forget about the headlights which also got their own changes. In other words this Hyundai Sonata Hybrid got a new extremely aggressive look for an economical car.
The hybrid system under the hood is actually a four-cylinder engine at 2.4 liter capacity and it has the distribution system modified in order to obtain a better torque, associated with an electric engine of 30 kW (40 horsepower) and 205 Nm. With all of these, this Hyundai Sonata Hybrid can develop 209 horsepower and a maximum torque of 265 Nm, which is pretty impressive.