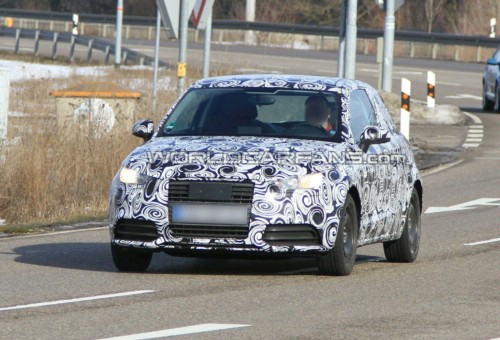 Looks like some spy photos with the future come Audi A1 came up, the car is programmed to be unveiled next week. As you can see from the photos, this Audi A1 comes with some pretty cool drawings, I'm sure that this car will have all the attention on the road.
Under the hood the Audi A1 will have one of the following, in the list is a 1.2 liter TFSI with 63kW (86 PS) and 160 Nm, a 1.6 liter TDI churning out 77kW (105 PS) and 250 Nm of torque and an 1.4 liter TFSI packing 90kW (122 PS) and 200 Nm. The Audi A1 is should appear on the market this summer and Audi expects to sell over 80.000 cars this year.
This is pretty much all we have about this Audi A1, too bad I'm really curious about the interior, I don't know what to expect. They said and I quote "a wide range of possibilities for individual designs", I don't know what exactly that means but if I have to guess I'll say that each customer will have a list with additional upgrades.