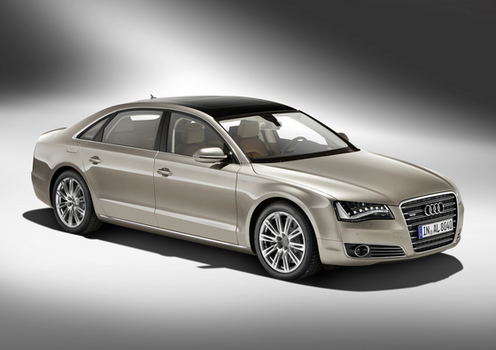 If you have the opportunity to go at Beijing then you are very lucky because there Audi will show us the most luxurious model from the actual range, I'm talking about the Audi A8L limousine. It's a car that most definitely will capture all the attention with that artistic interior.
This Audi A8L is with 13 centimeters longer than a standard A8, and all those 13 cm are found in the wheelbase reconstruction.  Audi sais that the width was unchanged and this model is longer than all competitors. The relaxation is provided by those 10.2 inch screens placed in headrests and by the Bang&Olufsen system at 1.400 watt. The space can be configured in a mobile office thanks to those pliable tables.
When it comes to the power, this Audi A8L also didn't disappoint us, coming with a W12 engine with 12 cylinders, 6.3 liter capacity and is able to develop up to 500 horsepower and a torque of 625 Nm. This car is very fast too, going from 0 to 100 km/h in 4.9 seconds, with 0.1 seconds faster than a Maybach 57S.