A good piece of news for car enthusiasts willing to spend some money on a limited edition model. It seems that RM Auctions is going to put a 2006 Spyker C8 Spyder up for grabs from the Dutch car manufacturer. The auction is scheduled to take place at Monterey next Friday and surely will bring a lot of car fans with big wallets since many won't like the thought of going home with the same car they came.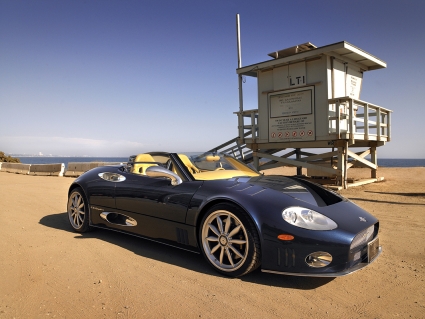 Back at the Spyker C8 Spyder, it features a 400 bhp V8 engine from Audi with a six-speed maual gearbox from Getrag. It goes from 0 to 60 mph in 4.4 seconds flat thanks to it's light weight of 2,750 lbs.
As for looks, it features a Metallic Blue coat of paint and the interior is in tan leather. It's attraction points are the rear vents, steering wheel, the wide grill intake, among other things that you will surely see at the auction.
By having no more than 400 miles on it's clock, the Spyker C8 Spyder will surely be taken away with up to $200,000 if not more, depending on how serious the bidders will be.