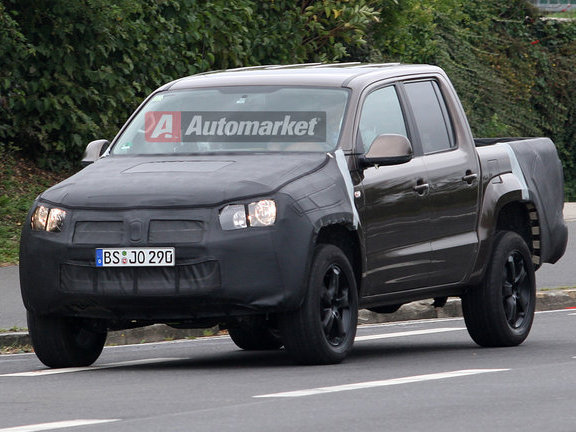 The first Volkswagen big pick-up was caught during testing near Nürburgring. VW Amarok concept was inspired by VW Robust Pick-up and is the first large segment of producers from Wolfsburg. The new Volkswagen Amarok will start in 2010 the market of Central and South America, and in Europe should enter into the second half of next year. Later, model VW Amarok will be available in Australia and Africa.

Copy surprised in photos is the version with double cabin, following the VW to create and release a simple cabin model. The model will be available both with four-wheel drive and four-wheel drive version on a single deck. Range of VW's pick-up engines will include new common rail diesel engines of the brand, model promising good performance along with low fuel consumption and low emissions.
Amarok's rivals (Toyota Hilux, Nissan Navara, Ford Ranger, Mitsubishi L200 and Mazda BT50) are faced with a tough fight because the model in Wolfsburg has big plans for all the markets it will attack. Volkswagen wants that Amarok model to defeat rivals both the comfort and performance offered, and the modern design for a pick-up.