The Japanese from Nissan succeeded to conquer the "Green Hell" beating some famous models in terms of performance on the German track. More exactly, Nissan GT-R managed to obtain a very good lap time, Nurburgring's 20 kilometers being done in just 7 minutes and 24 seconds, faster than some hot supercars that struggled to get the fastest time, models such as Pagani Zonda F or Ferrari Enzo.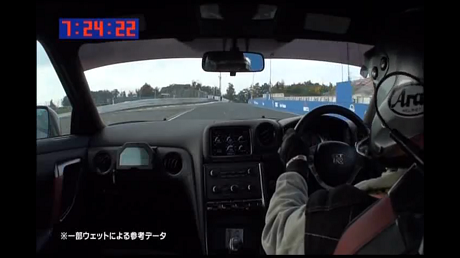 Packing a powerful V6 engine under the bonnet, the Japanese model managed to behave beyond the expectations, some minor aerodynamic tweaks helping the model to get a better performance on the circuit together with an improved transmission.

The 3.8-liter engine that offers 485 horses in standard gets some serious upgrades in order to develop no less than 530 horsepower and 612 Nm of torque, the current GT-R obtaining an improved time by 2,45 seconds compared to the previous generation.
http://www.youtube.com/watch?v=HK62yyQ33_U
With this ocassion, Nissan released a video to prove the new achievement of their supercar on the famous German track.