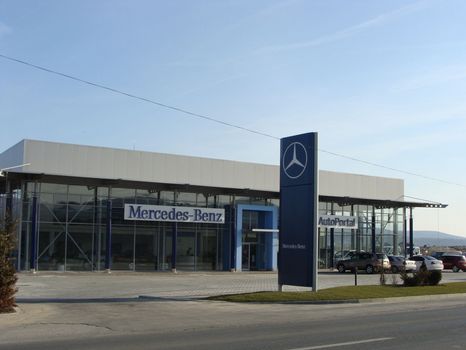 Mercedes-Benz Romania expanded its authorized centers network thanks to inauguration of the Autoportal authorized center from Ramnicu Valcea. This new authorized center was built in less than seven months by the Autoportal society which applied to become Mercedes-Benz Romania Center in octomber 2008. The investments in this project, construction, land, service equipments reached 3.000.000 euro.
Also let's not forget about the vehicles stock which cost another 500.000 euro. This new Authorized Center Mercedes Benz is spreading of a total surface of 2.700 mp, from which 770 mp are covered by the showroom, service, paint, tinwork, technical inspection line, warehouse for spare parts and car-wash, the location having a total surface of 15.000 mp.
This Autoportal Authorized Center from Ramnicu Valcea has available for customers a showroom that has a long range of Mercedes Benz cars. The team of the Autoportal Authorized Center is formed from 34 employees, having a working program from Monday to Saturday. In this point, the Romania Mercedes Benz network has 30 Service Authorized Centers and 26 Authorized Sales Centers. In 2010 new Authorized Centers will be opened in Bacau, Buzau, Deva and Ploiesti, all services.