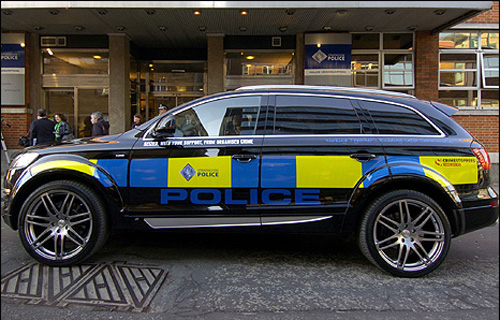 Glasgow police will use for intervention an Audi Q7 with ABT kit capable to develop 278 horsepower, seized following a confrontation with a neighborhood gang. Glasgow Police Department boasts recently with an Audi Q7, which will serve the police in the future. The SUV from Ingolstadt went into law enforcement equipment after a confrontation with a local band, the vehicle was seized and then turned in an intervention car.
The model that recently came to the police fleet isn't a simple one, the SUV benefiting from an ABT kit, which comes with an aerodynamic kit, with larger bosses and four exhaust pipes "stucked" well in the rear deflector. The impressive outfit is completed by a set of 20-inch wheels with chromed aspect.

Under the hood we find the 3.0 liter diesel unit, which was modified by German tuner to deliver 278 horsepower and a torque of 580 Nm. As a coincidence, the car will be used by the department to combat violent gangs.