My friends and I are regular visitors to car and bike shows the length and breadth of the UK. In the past 12 months we've attended over a dozen events, including some of Britain's most popular gatherings for petrolheads. We thought you'd enjoy reading about some of the major festivals that we've attended.
The easiest way to get a dozen strapping lads and assorted gear across the country is by minibus, and this year we hired several 17 seater minibuses which we would have been lost without. Thank you Nationwide!. Fortunately the major events all offered excellent visitor facilities and ample parking for the huge crowds in attendance.
Goodwood Festival of Speed – June 2015
Our tour of the major events started in Sussex with our favourite, the Goodwood Festival of Speed. Held over several days each June since 1993, we've been regular attendees in recent times. On this occasion we spent two days there, including plenty of time watching a huge array of vehicles take on the infamous Hillclimb – it's a crazy spectacle to see cars and bikes of all shapes and sizes take on the 1.16 mile climb –we were lucky enough to glimpse Valentino Rossi racing up and down the course on his Yamaha, with the throngs raising some of the loudest cheers of the weekend. The weekend is always themed, and this year's event was tagged "Flat Out and Fearless: Racing on the Edge" – "the Doctor" Rossi was certainly an apt person to be taking part under such a banner, alongside his MotoGP compatriot Casey Stoner, who was also well received.
After a splendid night out in Chichester, we returned to the festival to explore some of the many exhibits on offer. We got up close and personal with the new Ferrari 488 GTB and the Ford Focus RS, which was of particular interest to a couple of our group. The Festival is always busy but there's enough breathing space across the estate to take in everything you need. Main exhibitors Mazda had influenced the design of a crazy twisted sculpture that towered some 130 feet above us and provided some terrific photo opportunities!
We also got chance to take a look at stands featuring some of the latest F1 race cars – Ferrari and Mercedes in particular had impressive offerings, while current star Felipe Massa took to the Hillclimb in Damon Hill's championship-winning Williams car. We also got chance to shake hands with NASCAR legend Richard Petty, who was surrounded constantly by his devotees. Sadly we missed Stirling Moss, but the Festival weekend was again one of our most popular of the year.
Car Fest South 2015 – August 2015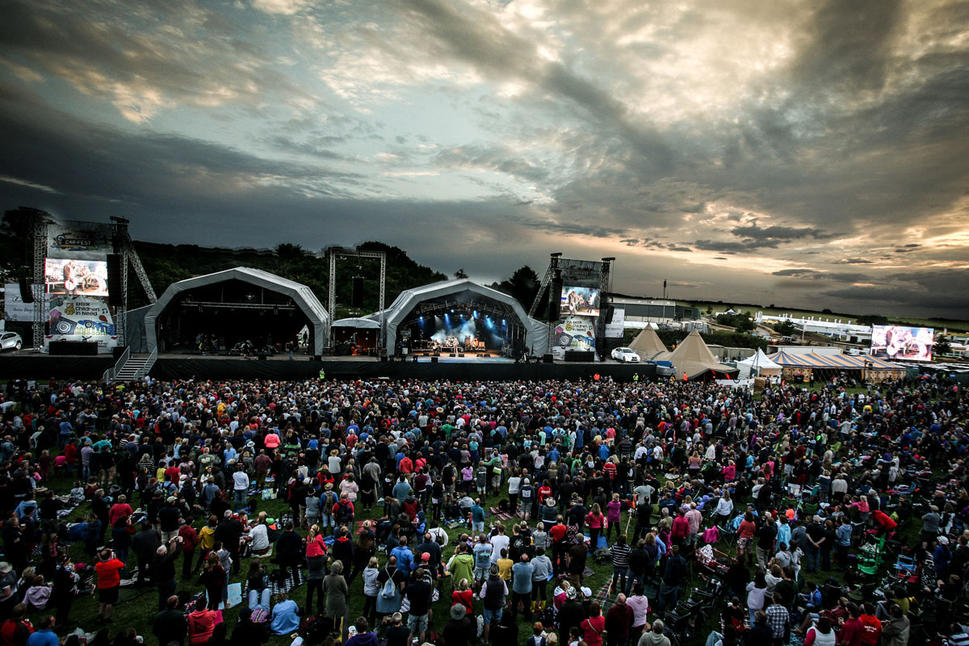 This was our first visit to Car Fest (also known as C4R-Fest), an event orchestrated by new Top Gear host Chris Evans, who is of course well known for his love of high-end motoring. It's split over North and South locations, and we plumped for the beautiful surroundings of Hampshire's Laverstoke Park Farm.
We actually arrived at the event slightly worried about how it would pan out, given the tragedy that had occurred at the North leg in Oulton Park earlier in the month, when an aerial stunt pilot was killed performing at the show. The flying displays had been cancelled, but there was still a great atmosphere regardless, and we were of course happy to be contributing to Children in Need. We'd plumped for full weekend tickets which came in at £116 each (with a third going to the charity) – there was an additional charge for camping, but those days are beyond most of us and we opted to stay locally instead.
As with the Goodwood Festival, much of the event focus was on celebrity names (a cracking musical line-up alongside the motoring) and a traditional hill climb event. Laverstoke Park is actually home to motor racing royalty, and we were thrilled to see Jody Scheckter take some of his iconic F1 cars for a brief spin on his driveway!
The event was great in that it put plenty of focus on fun and allowed everyone to get close to some pretty special cars. Our own favourites included a host of classic Ford Mustangs, the iconic DeLorean of Back to the Future fame, and a beautiful vintage silver Morgan which has clearly been well loved. Rally and motorsport vehicles were sat alongside all manner of novelty cars and working vehicles, including militaria. A big attraction both for us and many fellow revellers was the Vintage Village, home to many classic cars from a hundred years of motoring.
The evening entertainment was top notch – clearly Evans' connections can pay off for such an event, as we enjoyed music from Paloma Faith, Take That, Jools Holland and many others – it was a terrific accompaniment to an event that could have been overshadowed by the tragic events at the Cheshire event just weeks before.
Performance Car Show – Birmingham, January 2016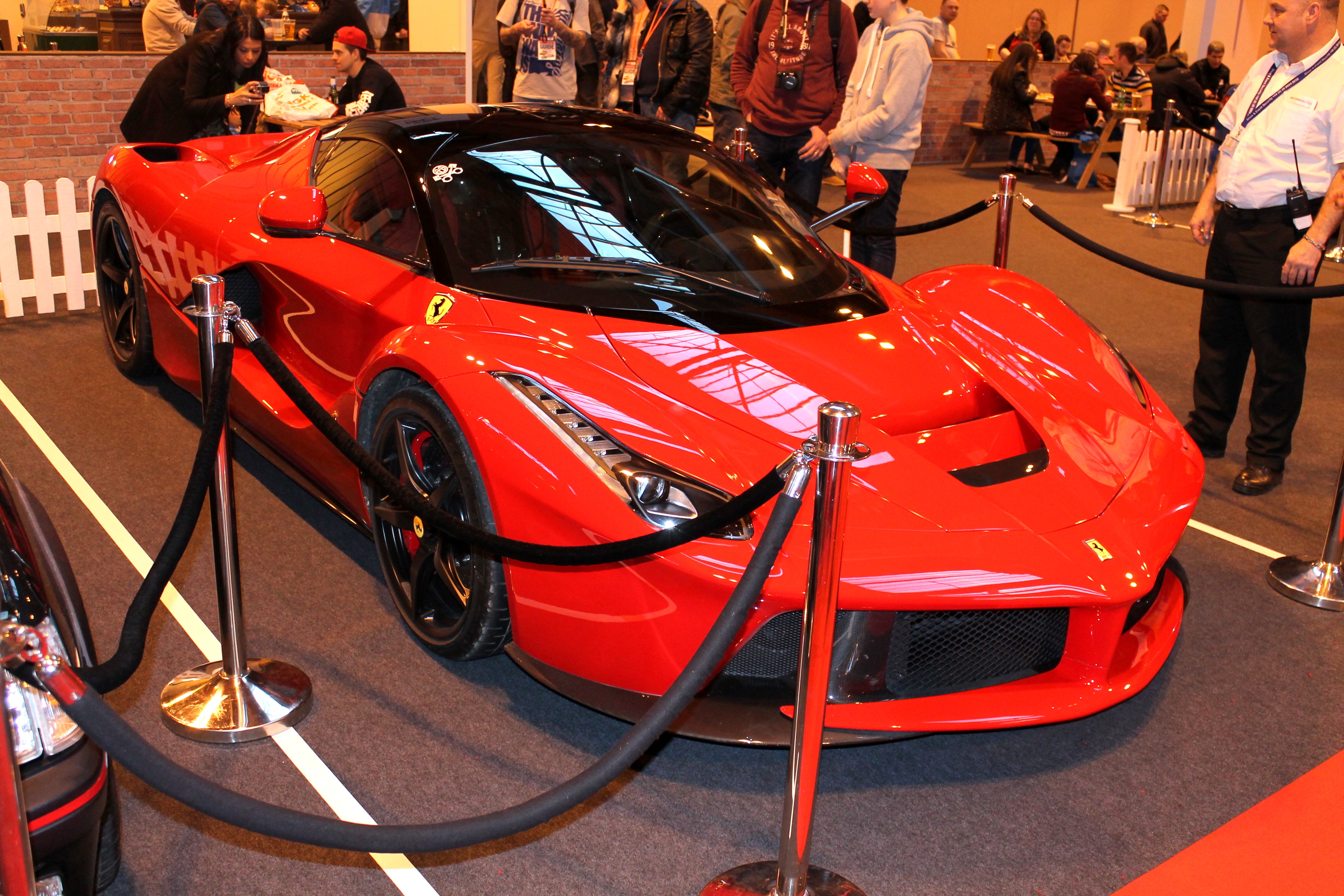 Run in conjunction with Autocar magazine, and now in its 26th year, the 2016 Performance Car Show took place as usual at Birmingham's NEC. Easy to get to by road, the NEC is one of our favourite venues, and has over a million square feet of exhibits and floor space devoted to the best in high performance motoring, from racing cars to popular public models and supercars.
Several of our group have particular interests in supercars and were thrilled to see the exhibits from Lamborghini and McLaren in particular – the Aston Martin Vulcan was also on display and received loads of attention. There were also the usual exhibits highlighting hand-made cars, and we were fortunate enough to spend quite a bit of time discussing kit cars with similar-minded attendees.
One of the real highlights of this show was the array of driving displays – from karting to drifting, there was loads to watch, and there was even a public karting arena; although none of us took the plunge, this proved extremely popular. We enjoyed the displays at Autosport International too; buying our tickets for the performance show allowed us free access into this event, and we were able to spend a day enjoying a wide range of exhibits and displays covering both modern motorsport and historic vehicles. The "hot hatch displays" caught our eye, with classic Peugeot 205 GTI and VW Golf models in particular taking some of us back to our younger motoring days! We didn't feel flush enough to join in the auction of classic vehicles, but we did pick up plenty of souvenirs across the event.
Motorfest – Weston Park, March 2016
We were back in the Midlands in late March to enjoy the 29th Motorfest event at Weston Park, near Shifnal. This is a much more family-friendly event, featuring over a thousand classic cars to enjoy. With it being Easter weekend, there was a pretty sizeable crowd in attendance but we still managed to spend a full day seeing almost everything on offer. Our eyes were particularly caught by the historic American cars on show, while one of our group was especially interested in classic tractors. We left him to it!
Other attractions included arena displays showcasing cars dating from World War 2 up to the 1980s, while the infamous "Decibel Duel" proved very popular – the idea is to locate the loudest car on display! Although many visitors seemed naturally interested in the cars on show, it was good to see lots of younger families enjoying themselves – what better way to get kids involved in motoring than by combining some pretty special cars with fancy dress competitions and an Easter egg hunt! We split into teams to enter the classic music quiz, which proved a great way to refresh our knowledge of the 70s and 80s and also gave bragging rights to three of the group who managed to come third overall! We also enjoyed the Glamophones musical group, girls performing modern and vintage songs in their unique way!
Though we only visited the event for one day of the weekend, there was probably enough to keep visitors entertained over both days – Weston Park itself is fairly expansive and, despite chilly weather, the miniature steam railway was proving especially popular. All being well, we'll certainly be back to enjoy Motorfest in 2017.
London Motor Show – May 2016
While the above events were stand-out highlights of our motoring trips in the last year, one of the most anticipated is yet to come. 2016 will see the return of the London Motor Show, which was last held in 2008 and subsequently cancelled due to spiralling costs and perceived dwindling interest. Given the fervour and enjoyment we've experienced at many shows, this will be a welcome return. We've already secured tickets for May 6th, the second of four days of events in Battersea Park.