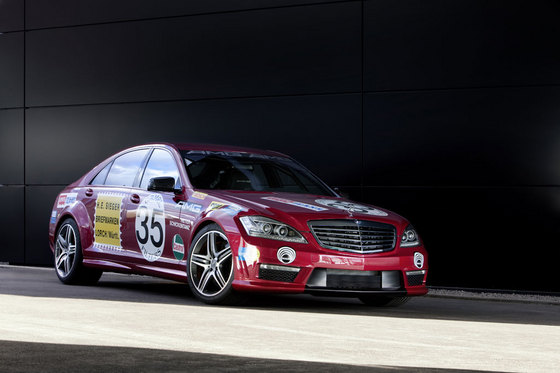 Mercedes S63 AMG is available now with a new motorization and the best thing about this is that the engine is more economical. This Mercedes S63 AMG will be seen at Geneva Auto Show 2010 with the new M157, which that actually is that twin-turbo V8 engine having 5.5 liter capacity. That will replace the old V8 engine at 6.2 liter capacity.
This new engine announces to be more powerful being able to develop 544 horsepower in the standard version or 570 horsepower after some modifications. The torque also has an impressive value being at 900 Nm and is available between 2.100 rpm and 4.600 rpm. With all of these, the V8 is with 25% more economic.
Also the dynamic performances are announcing improved, this Mercedes S63 AMG being able to reach 100 km/h in just 4.5 seconds, if compare this result to the previous motorization you will notice that 1 second improvement. If you wonder why the car from the pictures looks like that, well, first of all this is a showcar, a tribute to the legendary limo 300 SEL 6.8 AMG.