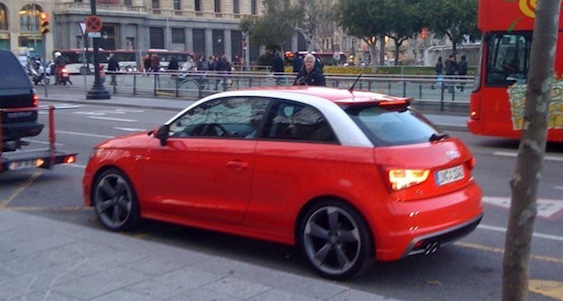 First of all I want to tell you that this is the most anticipated car in Europe for 2010 and this Audi A1 will make its debut at Geneva Auto Show 2010. It seems like the car was spotted earlier on the streets on Barcelona and the car was equipped with an S-Line Sport Package which at a first sight it looks very cool.
I have the information that next year European peoples will have a five-door, convertible and an S1 version of the Audi A1. They say that this Audi A1 will go on sale someday this year in Europe and the price will start from 16.000 euro, that's like 22.062$ USD.
The motorization will be made by a lineup of 4-cylinder engines which promises us to do the job. Those engines are more exactly two TFSI on gasoline and two TDI diesels which they are able to develop from 84 horsepower to 122 horsepower. The transmission is made through a seven speed S tronic transmission and the fuel economy will be between 44 mpg and 64 mpg, that sounds pretty promising.