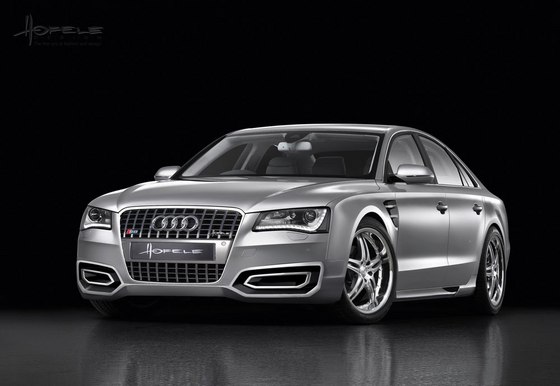 When you firs compare the series version of Audi A8 with this one tuned by Hofelle first thing that you will notice is that new aggressive look . The main thing that accentuates the aggressive look is that new spoiler with personalized high tech ventilation holes made of aluminum.  The back of the Audi A8 is not that changed, the only thing that gives the impression of power are those two pairs of sport exhaust systems.
This Audi A8 tuned by Hofelle has pneumatic suspension which can be lowered if you want to 80 mm and that highlights those wheels which are carrying the PRADO signature and they have dimensions between 20 and 22 inch. Also Hofelle equipped Audi A8 with a high tech braking system (with six-piston calipers) and optional they are offering braking ceramic discs.
Hofelle upgraded the engine too, that V8 gasoline engine with 4.2 liter capacity has now the power increased from 371 horsepower to 400 horsepower. That 0 to 100 km/h torque is now 5.3 seconds, compared with 5.7 seconds of the series model is not a very large improvement, but is a good one.