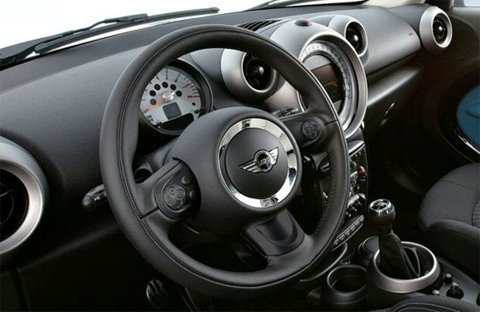 Here are the first official pictures of new Mini R60, entitled Countryman. The crossover is of the first British brand and benefits from four-wheel drive and a unique design. Just one day after introducing a teaser video of the Mini Countryman, the first images of new crossover from Mini mysteriously appeared on the Internet.
Looking at the image quality and how they are made, we can be sure that they are part of the batch of media images that was leaked on the Internet before the official embargo. The three images capture the Cooper S's Contryman version, which benefits from four-wheel drive titled, ALL4.

The Cooper S version has a six-speed manual transmission. From what we can see, all the details and ornaments of the interior are made in the style of previous models of Mini, like the exterior, which received the same nonconformist design adapted to a crossover. Apparently, the new crossover from Mini is not as high as Beachcomber concept presented at the Detroit Auto Show, this year.