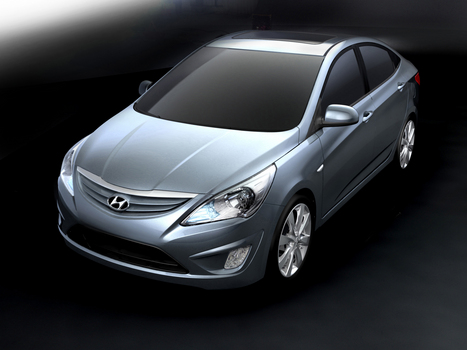 A few days ago Hyundai launched the new compact sedan Verna which, even if this was not mentioned in clear words, is practically the new European Accent. This new sedan compact Hyundai Verna was released in world premiere at Beijing Auto Show. This new Verna is a little bit bigger compared with the previous generation, measuring 4.40 mm x 1700 mm x 1460 mm.
The wheelbase is also bigger, the distance between bridges being now of 2570 mm, being clear the fact that this new model has a more generous space. Let's not forget about the trunk which is more spacious, coming with a capacity of 454 liters. Hyundai chosen this shape to provide safety, this new Verna wants to obtain five stars at safety tests.
The new Hyundai Verna was launched for now with only two engines, the Diesel one will probably come for the European market. Those two available engines, Gama, of 1.4 liters DOHC and 1.6 liter DOHC are able to develop 105 horsepower and 120 horsepower, being more powerful than the actual ones. This model will be also launched in the rest of the world.