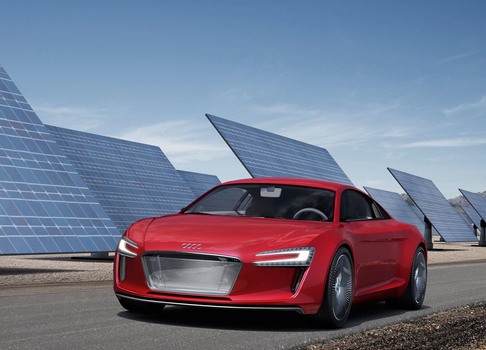 This Audi R8 E-tron looks like he came from the future, but from the dimensions point of view he's a little small having the next dimensions, 4.26 meters length, 1.90 meter width and 1.23 meters height. Compared with the model from which he borrowed the body line, is shorter with 17 centimeters, but this model comes equipped with four electric engines, two on each bridge.
The total power gathered from those four engine is of 313 horsepower, but even more impressive is the torque, which is exact 4.500 Nm. In normal conditions the power is divided like this, 70% from the power is transmitted to the inferior bridge and the rest of 30% to the front.
With all of those being said, this Audi R8 E-tron is able to reach 100 km/h in 4.8 seconds, and the speed is limited ad 200 km/h because the energy waste increases disproportionately with the running speed. This Audi R8 E-tron runs with one single battery which provides energy for almost 250 km and it weights 470 kg. With all of those, the total weight of this E-tron is of 1.600 kg.