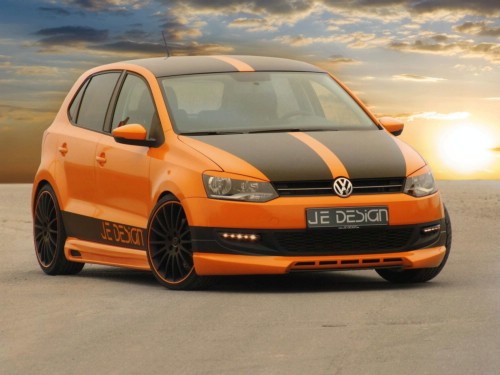 As you can see in the pictures we have a new styling package from JE Design for Volkswagen Polo V and I must say that it looks very cool. Now let's talk a little bit about what that kit includes and the prices. If you want to choose some wheels, well you have a few options and I will mention them in a couple of seconds.
You can choose something finished in 'shadow silver' and the price is 1809 euro for the 17-inch and 1929 euro for the 18-inch, and for the second choice you have 'black matt' and the price is 2260 euro for the 17-inch and 2380 euro for the 18-inch. The kit also includes come body features, the price starts at 1528 euro and the you got some aggressive side skirts, a front spoiler, and a modified rear bumper with a faux carbon fiber diffuser.
If you want another styling features for your VW Polo V you can have a new stainless steel exhaust system at 599 euro, a KW coil over suspension at 929 euro, as for the interior you can have heated seats and leather upholstery.