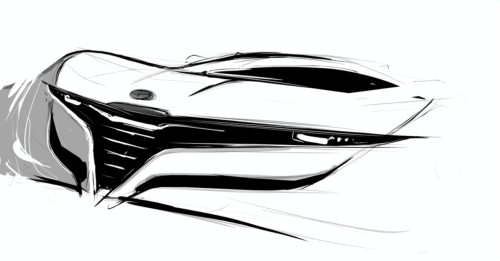 I put my hands on a sketch of the new future come Bertone Alfa Romeo. This Bertone model is the version for the Alfa Romeo 159 and as you maybe heard Alfa Romeo has in plan to make three different versions of the Alfa Romeo 159 version, each one of them making their appearance in Geneva.
According to what they said, this Bertone Alfa Romeo Coupe will be equipped with a (450 PS / 331 kW) V8 engine with 444 horsepower. The guy that put this project on the run said that Bertone Alfa Romeo Coupe and the others concepts will celebrate Alfa's 100th anniversary which will be present in Geneva this March.
In the sketch we can see almost zero details but they said that Bertone Alfa Romeo might be a two-door coupe. I looked at the picture and for a second there I thought that I saw the Efficient Dunamics Concept Design from BWM, I don't know maybe my eyes are deceiving me but there are some similarities. I can't wait to see the first official photos with this Bertone Alfa Romeo concept.