Volkswagen Group have recently announced their plans to expand production capacities in China with the construction of a new automotive plant which is to be located in Foshan, in the Southern Chinese region of Guangdong.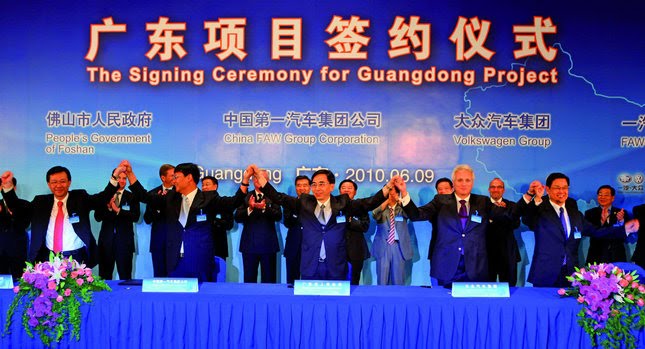 The new plant is scheduled to begin operations around the middle of 2013, sporting a capacity of 300.000 vehicles produced yearly.

VW boss, Martin Winterkorn, stated that China has become the Volkswagen Group's largest and most important sales market and to this respect the company has an unprecedented investment plan which aims to bring production capabilities to three million vehicles per year by 2013/14.
Construction work on the new facility is set to start at the end of 2010 and the new plant will have an estimated workforce of around 4,000 employees. The compound will occupy a 170 hectare site which will house a complete production facility with press shop, body shop, paint shop and assembly unit. The investment of about €520 million needed for this sort of enterprise will be funded from the cash flow of FAW-Volkswagen.
Together with its China partners FAW-Volkswagen and Shanghai Volkswagen, the German company has a total of nine plants in China. In addition to the existing plants in Changchun and Chengdu, the new plant at Foshan will be the sixth production facility of FAW-Volkswagen in China and the first in Southern China.