As Formula 1 grows in popularity in the United States of America, just like the best online casinos, arguments over which category of racing is better and which is more popular will increase. In motorsports, data is everything, and the data doesn't lie. NASCAR is a privately owned company, so specific financial data is not fully available. At the same time, Formula 1's rights holders are Liberty Media, a publicly traded company that owns the Atlanta Braves, among other media properties, with publicly available financial data.
So, we're going to end the debate over which racing category is more popular before it starts using publicly accessible television viewership data only.
NASCAR wishes it was as popular as Formula 1. Despite having far more lucrative television broadcast deals with Fox Sports and NBC Sports, NASCAR is not as popular as Formula 1. Even with higher NASCAR financial estimates, F1 generates more money annually, has a global reach, is the pinnacle of motorsports engineering and performance, and the sport is growing in popularity with the key 18-49 television demographic in NASCAR's backyard. F1 is even beating NASCAR in that key television demographic.
Aside from the value of their television deal, television ratings are the one argument that NASCAR fans can say that NASCAR is more popular than Formula 1, for now.
NASCAR is More Popular on American Television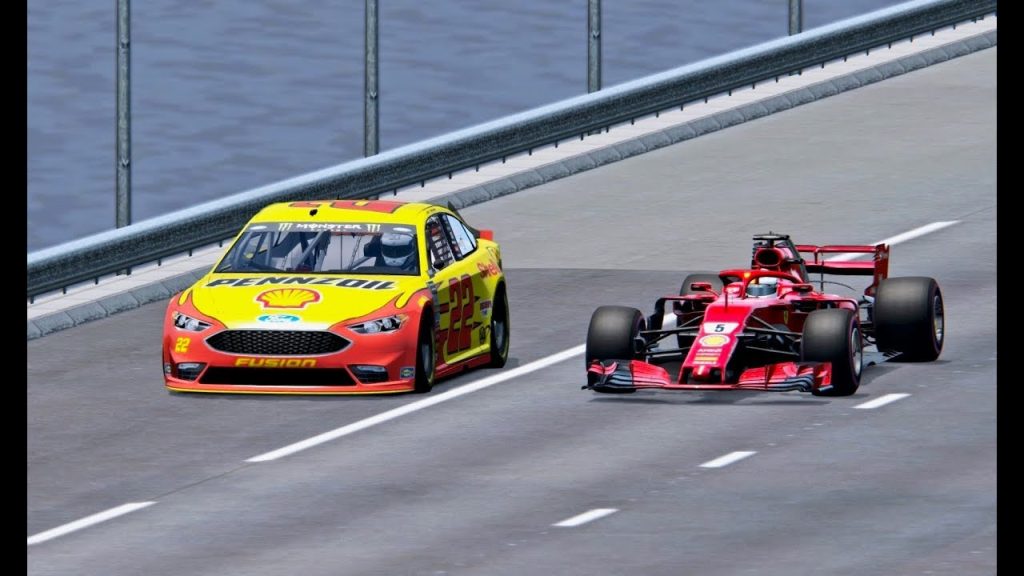 Without a doubt, NASCAR is the number one motorsport in the United States. NASCAR fans can point to viewership numbers on NBC, FOX, and other affiliates and the past to argue that NASCAR is more popular than Formula 1. In Formula 1, data is everything, so F1 fans must accept what the data says: NASCAR fans are right. For now, and only kind of.
When comparing Formula One and NASCAR television ratings, we must remember that these races are often happening at very different times and rarely go head-to-head. We're going to look at one weekend in particular when both series were running on the same continent and did go head-to-head, and NASCAR came out victorious. Barely and only when valuing one metric over another.
The Data From a Rare Head-to-Head Competition Reveals Some of the Truth
On May 8th, 2022, Formula 1 held its inaugural Miami Grand Prix as F1 continued to make inroads in the American market. According to show buzz daily, 2.066 million viewers watched Max Verstappen, and Red Bull win the Miami GP starting at 2 p.m. ET. In the 18-49 demographic, the Miami GP drew 735,000 viewers on ABC. With Formula 1 being a global racing category, start times dramatically affect how many people watch Formula 1 live on ESPN or ABC.
NASCAR has had some incredible peaks on television, with 17.8 million households tuning into the 2008 Daytona 500. Society consumes sports media differently than it did in 2008, and with a continued decrease in cable in households, we're likely never going to see those rating highs again. Currently, NASCAR Cup series races often average between 2 and 3.5 million viewers per race.
The NASCAR Cup Series race at Darlington was on FS1 shortly after lights out for the Miami Grand Prix, drawing 2.624 million viewers, but only 517,000 being in the 18-49 demographic. In a straight-up comparison, on a rare weekend when both series went head-to-head, more people watched NASCAR live than Formula 1. Yet, in the most important category – the 18-49 demographic – Formula 1 beat NASCAR. NASCAR has dominated the American motorsports scene for decades, while Formula 1 has struggled to make substantial inroads in America, having numerous disastrous attempts to show for their efforts.
Formula 1 has a Global Reach, but NASCAR Does Not.
NASCAR may dominate the American motorsports market, but its American base and focus limit its appeal to a primarily North American audience. Formula 1 is many things, but regionally limited is not listed among them. Formula 1 is truly global motorsport, with races scheduled on every continent but two: Africa and Antarctica. Formula 1 has been rumored to return to South Africa, with 2024 being the earliest a South African Grand Prix can be featured on the F1 calendar.
Looking at the 2023 Formula 1 calendar, it becomes clear how global F1 is, and the inroads in America are finally paying off. Formula 1's 2023 calendar is the biggest in history, with 24 races and six sprint races taking place in 20 different countries. While there are only so many circuits that are graded for Formula One competition, there are more circuits that want F1 races than there are F1 races to be run, putting calendar mainstays like the Monaco Grand Prix under threat of being on a rotating schedule or losing their spot on the calendar altogether.
Why? Formula 1's increasing popularity generates significant revenues for race organizers, the FIA, Formula 1, and F1's rights holders, Liberty Media. This means circuits like Qatar and Saudi Arabian can secure their spot on the calendar by paying for the privilege and agreeing to long contracts to keep their spot. Legendary circuits like Circuit de Spa-Francorchamps in Belgium are in jeopardy of losing their place on the calendar because they cannot provide the revenues or spectator amenities like newer circuits or locations.
A New Addition to the F1 Calendar Speaks Volumes
The main thing the Formula 1 calendar demonstrates is the growth of F1 in the American market. Before the COVID-19 pandemic, Formula 1 had four races on the American continents: The Canadian Grand Prix in Montreal, The Mexican Grand Prix in Mexico City, the Brazilian Grand Prix in Sau Paulo, and the United States Grand Prix in Austin. Miami joined the calendar in 2022, making it five races on the American continent. But Formula 1 may have landed an American crown jewel alongside its long-standing crown jewel, the Monaco Grand Prix, and brought a full quarter of a wrongfully tagged "European" racing category to the American continents.
The only indication you need that Formula 1's popularity is growing in America is the return of Formula 1 to Las Vegas since the 1982 Caesars Palace Grand Prix, which took place in the casino's parking lot.
How popular is Formula 1, and how much money can it generate in America? Enough that it is worth it for Formula 1, race promoters, corporate partners, and the city of Las Vegas to turn the Vegas strip into the start/finish straight and paddock for a Formula 1 Grand Prix: a process requiring the entire construction and deconstruction of a road circuit before the strip can return to normal functionality.
NASCAR wishes Las Vegas would shut down the strip for a race. But the data doesn't lie: Formula 1 is increasing in popularity and generates enough revenue to justify turning the Las Vegas strip into a race track and for Formula 1 to focus on the American market by scheduling the Las Vegas Grand Prix as a night race: one of the five-night races on the calendar and undoubtedly will be the most visually stunning of the five.
Jealous? Formula 1's Increased TV Popularity in America and the Drive to Survive effect
Formula 1 has never reached the popularity on television or cultural relevancy in America as NASCAR has. But NASCAR is not the pinnacle of motorsports engineering, at the forefront of aerodynamic engineering, or hybrid power technology like Formula 1. NASCAR and Formula 1 are very different racing categories with different technical rules and specifications. These two racing categories are very different, but are fighting for people's attention in the same market space. As such, NASCAR is following the leaders in global motorsports, hoping to get a boost in popularity.
Drive to Survive introduced global audiences to the politics, personalities, technology, pomp, and circumstances of Formula 1 in a delightfully crafted docu-drama narrative. Without the success of Drive to Survive, there will be no Las Vegas Grand Prix in 2023. Drive to Survive's success directly correlates to the growth of F1's popularity in America.
Yes, F1's popularity grew 70% from 2011-2016, with a Total Audience Delivery of 556,000 viewers on NBC Sports Network. However, a return to ESPN and Liberty Media's focus on growing F1's popularity and global reach – including an emphasis on developing the over-the-top F1TV streaming service and Drive to Survive – has led to year-over-year growth for F1 in America.
Broadcast at 9:05 a.m. ET on Sunday mornings, the 2019 and 2020 British Grand Prix showed modest gains jumping from 591,000 viewers and a 0.15 rating in 2019 to 736,000 viewers and a 0.19 demographic. These are numbers NASCAR and NASCAR fans could have used to downplay Formula 1's growing popularity in the past. If 2021 and 2022 are any indication, NASCAR is in trouble as the most popular motorsport in America.
The 2021 British Grand Prix started a little later (9:55 a.m.), but 1.029 million Americans tuned in, with an incredible increase to a 0.34 rating in the 18-49 demographic. While the head-to-head numbers show what viewership a Formula 1 race can do, the year-over-year growth for a regular non-North American Formula 1 race tells the story, which continued into 2022. The increases in American television viewership continued for the 2022 British Grand Prix when 1.239 million American viewers and an incredible 0.49 rating in the 18-49 demographic tuned in on a Sunday morning to watch Ferrari's Carlos Sainz Jr. win his first Formula 1 Grand Prix.
NASCAR is well aware of Formula 1 encroaching on its American territory and has produced its own Drive to Survive. NASCAR is scrambling to catch up with Formula 1's American expansion after the COVID-19 pandemic, introducing Race for the Championship on the USA Network. However, this effort is limited to the American market and not necessarily designed to maximize global reach. The fact that NASCAR has gone with a primarily traditional television broadcast deal speaks to NASCAR's continued and solely American focus.
While Race for the Championship is intended to reach and create new motorsports fans, NASCAR's vision is solely focused on the American market: a market it is losing its grip on as the most popular motorsport. NASCAR is very successful in its own right and might want to be like Formula 1 in many ways, but it has not taken steps to expand globally to compete with Formula 1 for global popularity.
And the data doesn't lie: Formula 1 is more popular than NASCAR globally and continues to grow in popularity in the key television demographic in NASCAR's backyard. The data doesn't lie.