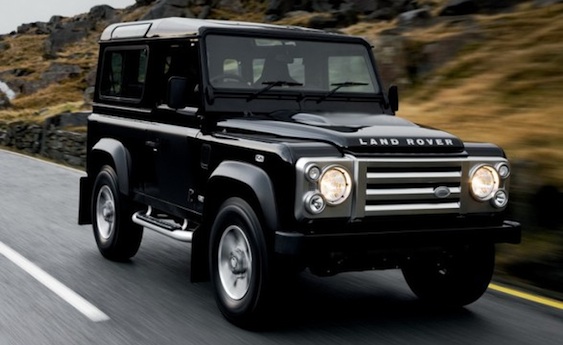 Land Rover is ready to replace the current generation of Defender with a completely new offroader. Land Rover's Executive Director, Phil Popham has confirmed rumors that the company will develop a new Defender, a model that has remained unchanged for 61 years.

He mentioned that the redesign of the model is needed to accommodate safety regulations and CO2 emissions. Land Rover Defender has been banned in the U.S. since 1997, due to missing mandatory airbags. With all that will keep the name, the new Defender will be more capable than the current model, the producer announces. "We will improve the versatile and practical vehicle," said Popham for an Australian publication.
New Land Rover Defender will share the same technical platform with Range Rover Sport and LR4 and will be released in late 2012 or early 2013. Upgrading the Defender to the T5 chassis will mean independent suspension, hard or soft tops and a choice of steel or air springs depending on the application. Power will most likely come from the company's existing lineup of four- and six-cylinder diesels.
Share this post with your friends!
Related Auto News:
3 Comments »
sadauna moses john said :
July 8, 2010 at 4:09 am

defender landrover is the best jeep i ever seen.

My Dad first jeep is defender landrover,in 1978,

and is still existing till date. As a son too, my
first jeep is defender landrover. And strongly belief,

when my son "DAMILARE MOSES JR." grow up he too will go for "DEFENDER LAND ROVER" I love the jeep.

Thanks defender's manufacturer.

alex said :
October 22, 2010 at 12:47 pm

Well, we'll see what is going to do the Jeep Comnpany when the Defender hits the USA. Defender's been an icon around the world as one of the best utility vehicule ( not jeep as sadauna said )ever made. We'll see war between these two companies. Maybe the Jeep company will release something like the Jeep MUTT M151A2 in order to compete with the Defender .

Larry D. said :
June 13, 2012 at 7:08 pm

Are they kidding? Why not put 19″ tires with a 20″ circumferance. I hope Land Rover eats Jeep Rubicon dust after trying to pawn this junk on the US! I've own a Series-1, Ser-3 & Def-110. How insulting a vehicle is this?